CGI 2013 - Venue & Accomodation
Accommodation
You can find a list of available rooms near the conference site at:
Leibnizhaus
our conference site.
Location & travel
The conference will take place in the heart of Hannover, the capital city of Lower Saxony, Germany. Hannover is well known for its annual fairs, including Hannover Messe and CeBIT. The city also got international attention for hosting the EXPO 2000.
Besides providing an excellent exhibition location and good transport connections, Hannover also offers a variety of cultural attractions. For example, the Staatsoper Hannover ("state opera") is only one of around 40 theatres located in Hannover. Other sights you may want to visit are the Hannover Adventure Zoo and the Tiergarten. The city also has been ranked as being the "greenest" city of Germany. Typical examples for the extensive public green spaces are the "Eilenriede" and the Royal Gardens of Herrenhausen.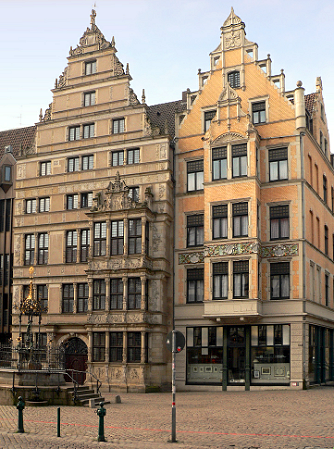 Conference location (Leibnizhaus, Hannover)
Conference site
The lectures of the CGI 2013 will be held inside the "Leibnizhaus" which has been named after the famous philosopher Gottfried Wilhelm Leibniz who resided in this building during the early 18th century. Nowadays, the Leibnizhaus is administered by the Leibniz University of Hannover and offers a total of five conference rooms.
Altogether, these rooms hold enough space for up to 400 persons:
Leibniz-room

145 seats / 55 table places

Hannah-Arendt-room

90 seats / 40 table seats

Karmarsch-room

35 table seats / 60 standing places

Iffland-room

12 seats

Kersting-room

20 seats / 16 table places